For smoother, younger looking skin.
Minimize Pores, Diminish the Appearance of Fine Lines from Aging,
Balance Your Skin Tone, Soften Your Skin, and
Relax and Detoxify your Whole Body.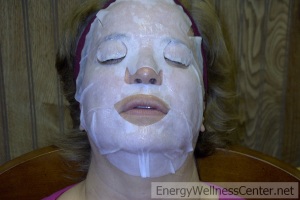 Learn more about the E-Power Machine and Facial Skin Rejuvenation.
The best 30 minute face skin rejuvenation and anti aging skin care in town!
How the Facial Skin Rejuvenation Works
The E-Power Machine was designed to provide Negative Potential Energy along with High Frequency Energy. This type of energy production is not new. It is very similar to the energy produced using the Detox Foot Baths. The only difference is the E-Power uses your body as the capacitor instead of the water as the capacitor. This type of high frequency energy will create an internal energy that may balance and revitalize you. It is an energy source that the body needs not only to survive, but to thrive!
Negative Potential Energy is the energy needed by the body for rest. High Frequency Energy is the energy needed by the body to perform exercise. High Frequency Energy increases the temperature of your skin. Negative Potential Energy spreads throughout the body creating a balanced electrical field on the outside and on the inside of all your cells. This energy field balances the functions of the positively charged ions and the negatively charged ions on both sides of the cell membrane. Once the cellular energy is balanced, our bodies can do what it normally does, only more efficiently. This type of energy can also promote a faster metabolism. It may also help your body build up immunity and it accelerates the process of detoxification.
The electrical wave from the E-Power massages your cells 70,000 times per second. This type of electrical massage helps the skin recover its elasticity. This effect also increases collagen by stimulating the fibro blasts. This will help to reduce the negative effects shown on your face and skin by improving your skin's metabolism and ability to reserve oxygen. The Skin Rejuvenator provides facial rejuvenation benefits similar to an anti aging skin treatment or a non surgical face lift.
Your Appointment
Your Facial Skin Rejuvenation also provides relaxation and detoxification during your 30 minute session and leaves you feeling much more energized. You don't have to do the added facial with the purchase of the Collagen Mask or Acne Mask to enjoy the benefits of the E-Power Machine. The same benefits are received during an E-Power Session that you would receive from a Detoxification Foot Bath Session. The E-Power also offers a solution to cleaning out built up toxins in the body. This could assist the body with fluid retention, reducing inflammation, improving your memory, balancing your pH, and chronic pain relief. Adding the collagen face masks to your sessions are an added bonus for a wonderful facial that offers a natural anti wrinkle, anti aging skin care treatment. It truly is amazing what occurs in the 30 minutes. Some customers have said it feels like an instant face lift because your skin feels so much tighter. Some have also commented on the wrinkle reducing effects and feel it is a great anti aging facial that you do yourself!
When you come in, you apply a Collagen Mask Facial Sheet (sold separately) to use during your E-Power session. It is best when you come in for your appointment to make sure that your face is clean and exfoliated and that you are not wearing makeup. You want to make sure you are ready to apply the Collagen Mask so you can maximize your results! Also, if you suffer from acne or want to try something for acne scar repair, the E-Power along with an Acne Face Mask may help you as well.
The results you receive from the Collagen Mask Facial Skin Rejuvenation are similar to those you might receive when getting a facial or a non surgical face lift at a much more expensive spa. Don't doubt our results because of our low price. You will be amazed at how powerful the E-Power Machine is! Once you have tried it, you will keep touching your face because you won't believe how firm and soft your skin feels and how much younger you will look! Why would you even consider a surgical face lift and expose yourself to all the associated risks when you can use the E-Power's Skin Rejuvenation. Just imagine all the extra benefits your body is receiving when your face and skin improves that much in 30 minutes! You don't have to purchase the Collagen or Acne Face Mask to enjoy the benefits of the E-Power Machine.

Demonstration of the Facial Skin Rejuvenator with the E-Power! You can also view before and after photos.
Benefits of the Collagen Mask Facial Skin Rejuvenation
Users of the E-Power may benefit or find relief from:
● Increased Energy
● Increased Detoxification
● Strengthens Immune System
● Balances Nervous System
● Weight Loss
● Decreases Fat Cells / Cellulite
● Improves Skin Tone
● Stimulates Skin Regeneration
● Minimizes Pores
● Softens Skin and Facial Lines
30 Minute Session with the E-Power – $35.00
Includes Facial Mask
Precautions: You should not use the E-Power if you have a pacemaker, are menstruating, are pregnant, have a high fever, with metallic items such as badges, jewelry or watches, or if you have drank alcohol within 1 hour.
Products available for purchase and in home use.